Who is archangel haniel?
In ancient Babylonia, there have priests who did psychic readings and gave counseling for personal problems. They used many gods and goddesses for angel reading, so our goddess Haniel is one among them. These priests used fire flames to focus their minds on meditation. So Haniel Goddess is considered for moon magic goddess and gives psychic powers such as clairvoyance. In the metaphysics of Kabbalah, Judaism, and modern Catholic religions she is considered one of the archangels. Archangels are higher-level angels who govern people's guardian angels and certain areas of our life. In terms of an archangel, Haniel considers an angel gives joy, new opportunities, and better communication skills.
As a female angel of healing, Archangel Haniel's main duty is to give the world love, joy, and beauty. So she is meaning a young lady who loves her partner well. Moon and Venus are considered her planets, so she has to care as a mother and love as a young lady. Archangel Haniel's numbers are 222 and 666. Silver, green and white is her colors. Moonstone and rose quartz are her crystals. Red roses are her flowers. Waxing moon period and full moon days she can be called upon. You can light green and white color candles when invoking her. The lantern is in her hand which means she shows us the correct direction.
What Does Archangel Haniel Do?
Mainly she helps to improve our psychic abilities and wisdom. She helps to concentrate our mind on a particular topic. She can remove our angry and helpless state into joy and relaxation. In chakra powers, she can influence the heart chakra, throat chakra, third-eye chakra, and crown chakra. With her feminine nature, she more focuses on the heart chakra.
She helps to reduce the pain of women's monthly illnesses. She helps young ladies to improve their personalities and help act as better mothers. Also, she advises mentally to treat your husband lovingly way rather than separately causing ideas to mismatch. Haniel helps to create family harmony between children as well as parents.
As a female angel of healing, Haniel is so important in meditation and yoga. She helps to clear our minds before meditation or any kind of spiritual practice. She likes candlelight meditation. It is we can concentrate our mind on the candle flame. It is a good meditation for attaining clairvoyance. Also, she helps to succeed in meditation of lovingkindness.
She is the goddess of expanding our minds to the spiritual dimension. She removes illusions and phobias covered in our minds. She removes toxic thoughts from our minds. When she arrived she brings joy and freedom. Another area she does her duties on fetching new opportunities into our life. Therefore it is best to invoke her when we face new challenges in our life such as going to a new job or facing an important exam.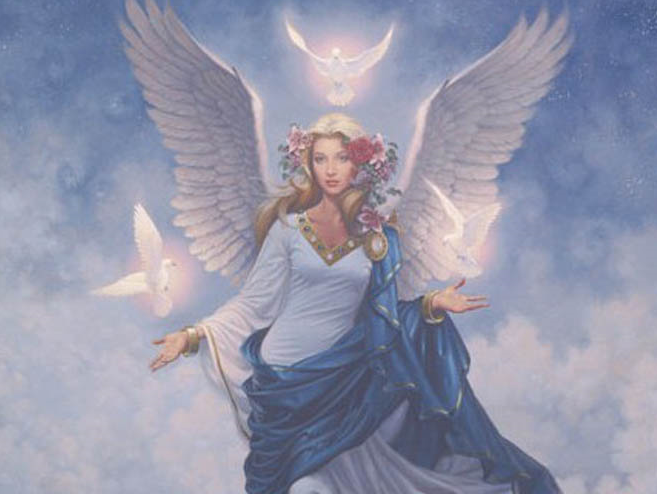 Archangel Haniel Meditation with Moon Light
The moon and archangel Haniel are connected to each other. So when invoking and meditating about her, it is better to do waxing the moon period. The best day is before the day to full moon day. Go outside in your house, in your garden where have a flowering tree. Take a red rose flower on your hand and keep the moonstone near you. Also, you can light a green or white candle. Then follow the below steps:
Take a deep breath 3 times
Concentrate your mind on breathing, air comes and goes in the nostrils.
Then slowly focus your mind on your heart and concentrate on your heart chakra. You can feel your heart chakra shine with lightful green light. Feel that green light spread around the world. Your green light that is emitted from your heart has been able to cure illnesses in every living being on this earth.
Then after a few minutes focus your mind on 3rdeye chakra. Recall the purple color emitting from your 3rd eye chakra.
Feel your heart chakra and 3rd eye chakra for about 10 minutes.
Then recall the name of Archangle Haniel. You can moan or mentally chant her name. She will come near you.
Clear your mind and try to take messages from archangel haniel. Whatever feels to your mind such as a past life event, some words, a song, or any new idea. Keep remembering that thing.
Ask her for help to succeed in your life, tell her your life problems, and ask her assistance. Then give thanks to her for coming to you.
Remember you did a good deed in past years and share it with her. You might give food to a pet, teach something to your friend in school or even you might do big charity works. Share those good deeds with her. Transfer the happiness of that good deed to her.
She will smile and go back. Off the candle and close these meditations.
Archangel Haniel Prayer for Love
This prayer is suitable for attracting a lover into your life. Also, it helps to reduce conflict between couples.  As a female archangel of healing, Haniel is a popular archangel for spreading harmony and peace in family life. She helps to remove grief from the breakdown of marriage life and love affairs.
Archangel Haniel, please guide me to find my soul mate, who gives me wisdom and shares his/her life experience with me. So we both can develop our soul contracts and learn lessons in this earth school. If there have sadness or separation between us, please guide me to relieve the soul contract of it. It may be a life lesson to me. I always accept your advice and wisdom. Thank you!
Archangel Haniel Prayer for Spiritual Development
Archangel Haniel, please help to develop my psychic abilities and clairvoyance, so that I can explore the truth of the universe. You are a goddess who can help me to spread lovingkindness in my mind and then remove ill wills, unnecessary lust, and ignorance. Please show me how to overcome material side lust and fill my mind with how to service mankind. Thank you!
How Haniel Helps Us to Succeed in Our Spiritual Life
Fetching new opportunities which may help to upgrade our soul
Removing toxic feelings and emotions
Cultivating lovingkindness in our mind
Developing psychic powers and meditations
Educating us on new subjects and finding good teachers
Removing grief and anxiety
Growing inner child within us
Introducing our true-life partner or good friends
Helping with moon magic spells
Giving messages with angel oracle card reading
Angel Healing with Haniel
Archangel Haniel crystals for healing are moonstones, amethysts, and rose quartz. Also, you can use green color stones. It is a good, light lantern near you, some sort of antique-type lantern, keep a flower basket of red roses and milk glass. You can use her colors of green, white, or silver to heal yourself or others. Better keep moonstones near you. Ask her to send her healing radiation to send to you. Then you can emit those light rays to others. She like meditation, so before starting angel healing you or your client may do 20 minutes of simple meditation.
Haniel like you help poor women, esp. young ladies, and divorced ladies. If such a lady suffers from a serious illness, you can support her such as donating expensive medicines. She likes teachers and good friends. So you can support your teachers and close friends. You can teach what you knew subjects in welfare schools and free community colleges. Doing charity work is the best way to attract any angels. Because you are an earth angel.
Doing moon magic spells is another way to attract her for healing. You can learn simple moon magic spells and do it waxing moon periods. You can read oracle cards to freely give card reading to your friends because she supports such works in ancient Babylonia. You can do the same things that she did in the past. You can teach others about Haniel, so she will be happy and then give you psychic ability as a gift.
May you all get the blessing of archangel Haniel!